If you want to take a break between a visit to a monument and a church, in Florence you can go shopping in the food markets, jewelry stores and high fashion boutiques.
Gastronomic products
The most purchased gastronomic products in the Tuscan capital are certainly the typical salami of the area such as the "Tuscan sbriciolona" and the onion salami of Certaldo and local cheeses (among all the goat of Mugello, the raviggiolo of Palazzuolo and the sheep skin toad).
Tuscany is also famous for its wines so why not buy a bottle of Brunello di Montalcino, Chianti or Vernaccia di San Gimignano.
You can shop in the main city markets: Mercato Centrale, Mercato San Lorenzo and Mercato del Porcellino.
The Central Market was built in 1784 and is a traditional market where you will find the best food and ingredients of Tuscan gastronomy.
The San Lorenzo Market from the Central Market extends to the Church of San Lorenzo and you will find souvenirs, bags and other goods.
The Mercato del Porcellino is one of the oldest markets in the world and is famous for the statue of the boar that if it is caressed brings good luck.
Fashion boutiques in Florence, Italy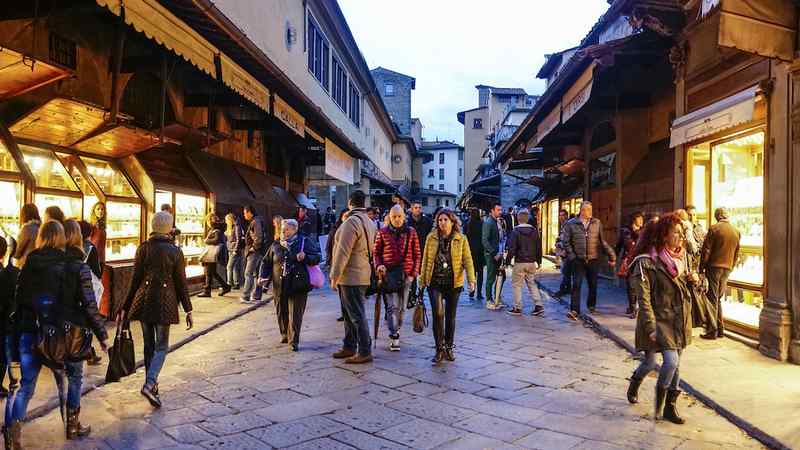 If you have a full wallet and you like to follow the trends, in Florence you will find high fashion boutiques with the best Italian and international brands.
In the area of Ponte Vecchio are the most chic shopping streets. However, we must pay attention to the many people in those areas who sell bags and other counterfeit items at affordable prices.
Souvenir
Before leaving, a must-see is the gift shops where you can find magnets, T-shirts, cups and everything you can think of to take home a souvenir of your trip.
You may also be interested in