The History of the Uffizi
Around 1560 Cosimo I de' Medici commissioned his trusted artist Giorgio Vasari to design a palace that would house the administrative and judicial offices of the Duchy of Tuscany in one place. This palace was to be built next to Palazzo della Signoria, where the Duke lived, and extended as far as the Arno River.
To create space for the construction of the Uffizi, many buildings on the right bank of the Arno were demolished.
The design by Giorgio Vasari, one of the greatest exponents of 16th-century art, and of whom this project was the greatest masterpiece, envisaged a U-shaped architectural body and portico with Doric columns, and an appearance that was both elegant and severe.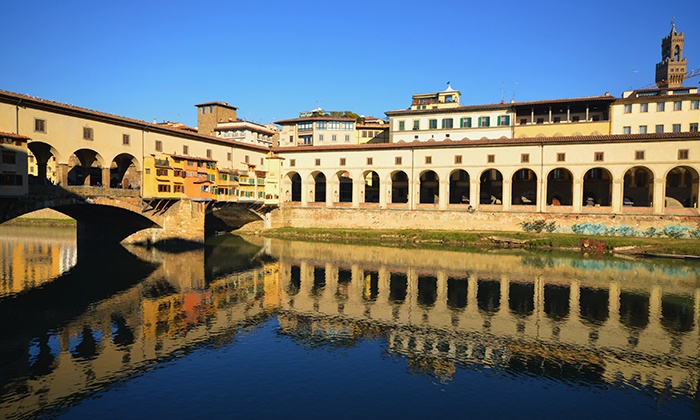 Despite many difficulties, it was built quickly: in just five years the most challenging part was constructed. In 1565, on the occasion of the marriage of Cosimo's son, Francesco, to Joan of Austria, the famous 'Vasari Corridor' was also built, which, passing along the Arno River and over Ponte Vecchio, connected the Gallery with Palazzo Pitti (at that time the Medici's royal palace).
Vasari died in 1574 and the Uffizi was completed by another great architect, Bernardo Buontalenti and Grand Duke Francesco I de' Medici, who was responsible for the creation of the Gallery on the second floor of the building.
The octagonal Hall of Tribune (Sala della Tribuna) was instead designed by architect Buontalenti.
Over the years, the collections expanded, continuously enriched with ancient and modern works of art as well as gems, weapons and even scientific instruments, such as those that belonged to Galileo Galilei.
Around the middle of the 18th century, the Medici family's main line became extinct and there was a risk of losing this enormous heritage. Fortunately, the last direct descendant, Anna Maria Luisa de' Medici, imposed the Family Pact on the new Grand Duke in 1737, with which she bound the dynasty's inheritance to Florence forever 'for the ornament of the State, for the benefit of the public and to attract the curiosity of foreigners'.
The Gallery was opened to the public in 1789 by Grand Duke Peter Leopold. Today, the Uffizi Gallery is one of the most visited and admired museums in the world.
You may also be interested in