What to see at the Uffizi Gallery
The Uffizi houses numerous works of art by major artists mainly from the 14th century and Renaissance period. A whole day would not be enough to admire the large number of works and many tourists only have a few days to visit Florence (if you are short on time, don't forget to book your ticket online to skip the line) and prefer to concentrate on just a few rooms in the Gallery.
One of the most frequently asked questions is what to see at the Uffizi.
How to get around the Museum
The Uffizi has three floors connected by wide staircases dating back to the 16th century. There are a number of lifts to ensure access for disabled people.
On the ground floor is the ticket office and the entrance to the museum on the opposite side.
If you are not experienced art connoisseurs, we recommend that you get guides or hire audio guides at the entrance to the gallery to get information about the works.
There are many interesting halls on the first floor, but we recommend that you go directly to the second floor where the main masterpieces are located.
Works of art from the 13th to the 18th century are on display here, while the corridors that form the U of the building house numerous antique sculptures.
The main halls to visit on the second floor are: Hall of the 1200s and Giotto, Hall of the 1300s, Halls of International Gothic, Hall of Filippo Lippi, Hall of Botticelli (where the two most famous works of the Uffizi, Primavera and Birth of Venus, are kept), Uffizi Tribune, Hall of Michelangelo, Hall of Niobe.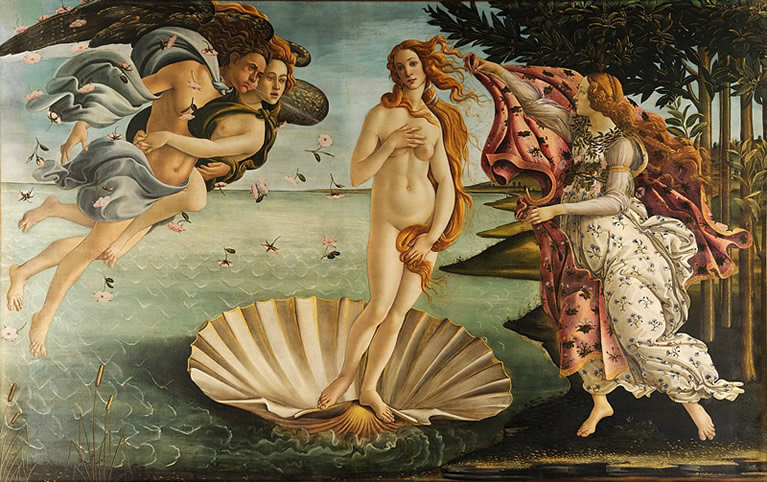 At the end of the second floor there is a bar where visitors can have small snacks, coffee and soft drinks, and enjoy an incredible view of Palazzo Vecchio and the historic centre of Florence.
Returning to the first floor, you will encounter works by Leonardo (temporarily on the first floor), Raphael, Titian and Caravaggio.
On the first floor there is also a section of rooms dedicated to temporary exhibitions held during the year. If you come in the period of a temporary exhibition, you can visit it because it is included in the museum ticket.
You may also be interested in